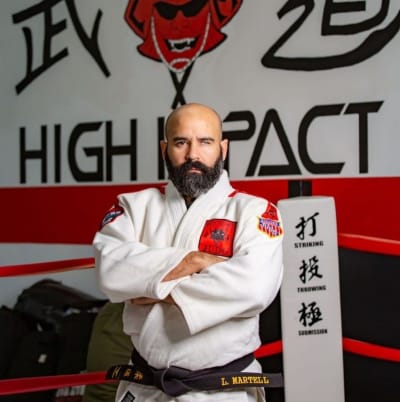 Lester Martell
Sensei Lester Martell, born 1979 in Cuba, began his Martial Arts/combat sports training at the age of four years old. His father, Jose Luis "El Suave" Martell, a very notable wrestling instructor in his province of Cuba, began to teach him the art of wrestling. At the age of eleven, his father, who greatly respected the martial art and combat sport of Judo, took him to his first Judo School. Lester quickly fell in love with Judo and decided to make it part of his life. Two years later, Lester and his father went to visit the Kobukan Judo Club of Julio Rodriguez, one of the greatest master Judo instructors in the state of NJ and the US. This is where Lester grew from a boy to a man under the instruction of Sensei Julio and his father. Forged in the fires of Judo, Sensei Lester has won numerous championships. Today, Sensei Lester is a Yondan – Fourth degree black belt – and invites you to learn and grow under his instruction.
Accomplishments: NJ State Champion, East Coast Champion, New England Champion, Eastern Jr Judo Invitational Champion.
High Impact Martial Arts was founded by Sensei Lester Martell in order to bring state of the art martial arts training to Hudson County, NJ and all neighboring areas. We are not just a martial arts academy but also a new way of thinking and training. High Impact Martial Arts brings you state of the art training in: Adult Judo, Kids Judo, Brazilian Jiu-Jitsu, Kickboxing, Submission Grappling, and Mixed Martial Arts. Programs for men, women and children of all levels.